Muscat, Oman (CNN)
--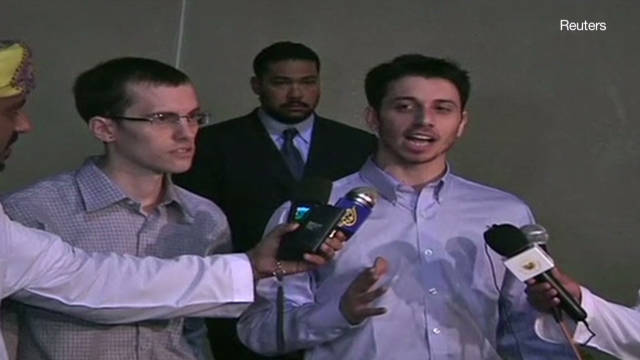 American hikers Josh Fattal and Shane Bauer bounded down the steps of the aircraft that took them from Iran to Oman late Wednesday, rushing into the arms of loved ones who had sought their freedom for more than two years.
The pair, released earlier in the day from an Iranian prison, arrived in Muscat, the capital of Oman.
Their families and hiker Sarah Shourd -- who was arrested with them but freed last year on medical grounds -- hugged the young men. Shourd is Bauer's fiancee.
Before leaving the Muscat airport for an undisclosed location, Fattal and Bauer released brief statements. They took no questions from reporters.
"We're so happy we are free and so relieved we are free," said Fattal. "Our deepest gratitude goes toward his majesty Sultan Qaboos of Oman for obtaining our release. We're sincerely grateful for the government of Oman for hosting us and our families."
Bauer said: "Two years in prison is too long and we sincerely hope for the freedom of other political prisoners and other unjustly imprisoned people in America and Iran."
The families earlier expressed their joy, relief and gratitude at the pair's release.
"Today can only be described as the best day of our lives," they said in a statement. "We have waited for nearly 26 months for this moment and the joy and relief we feel at Shane and Josh's long-awaited freedom knows no bounds.
"We now all want nothing more than to wrap Shane and Josh in our arms, catch up on two lost years and make a new beginning, for them and for all of us."
President Barack Obama also welcomed the "wonderful news," saying he was thrilled and could not feel happier for the two men's families. He thanked Oman, Iraqi President Jalal Talabani and the Swiss government for their assistance.
web hosting|web design